Ish I'm Feeling – January 2019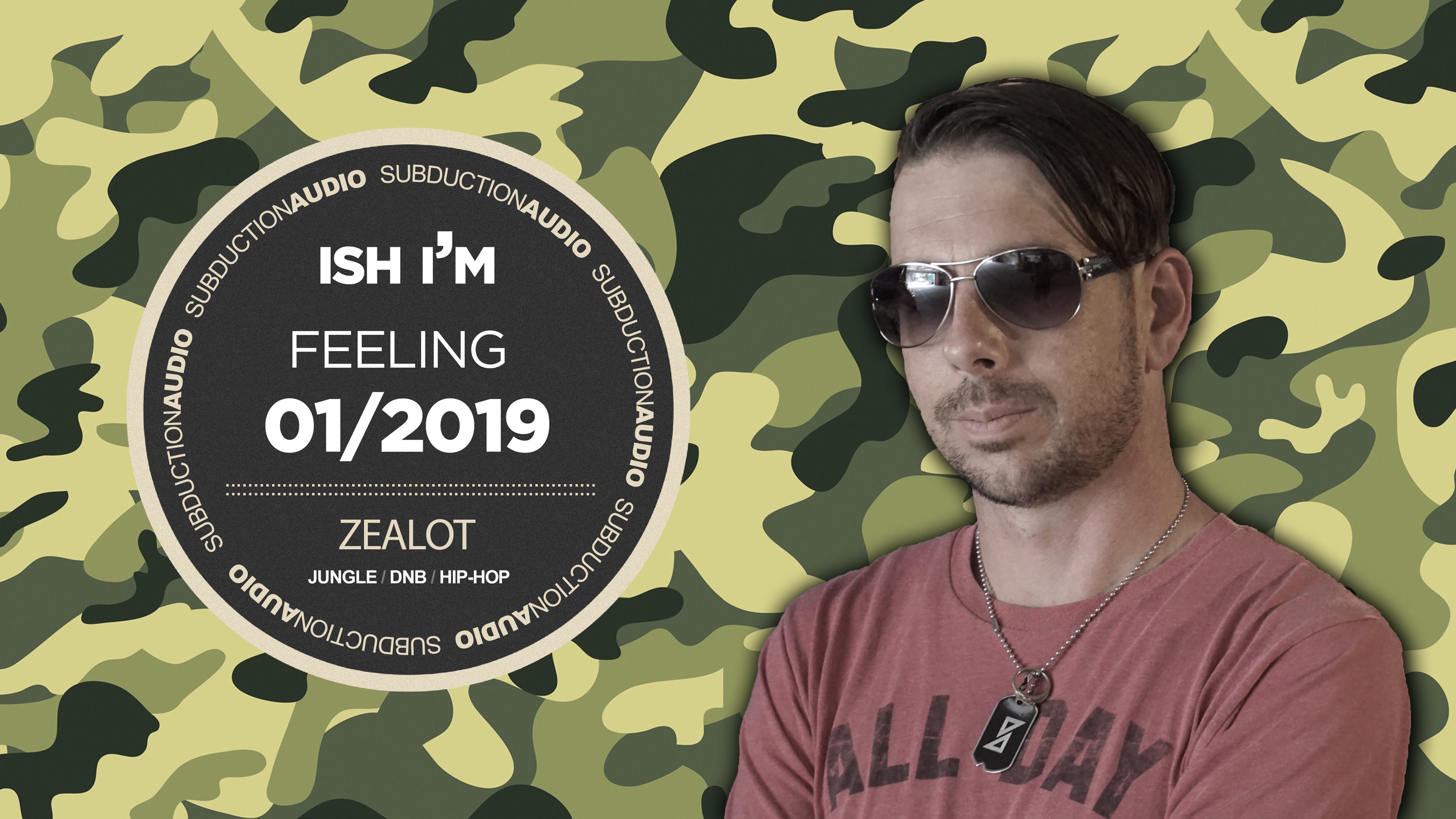 Hello there fellow music enthusiast. Welcome to the first of hopefully many "Ish I'm Feeling Right Now" lists with yours truly, Zealot. This is kind of a "Top 10 List" but also not. It's really just a set of tunes, in no particular order, that are making me feel tingly in all the right places. Some I may be rinsing, others that are just quality joints. Nevertheless, without further ado…
OAKK – Feel So High – Unchained Recordings
I just recently discovered OAKK as an artist. In particular, I keyed in on the "Growing" single. The title track featuring Rider Shafique is 100% fuego in itself, however the compliment "Feel So High" is a stellar piece of halftime work. A seductive vocal layered over a robust bassline and innovative and interesting composition makes for one hell of a piece. There's a level of emotionality that drew me to this tune and I can't get enough of it.
Purchase Link:
https://oakkmusic.bandcamp.com/album/growing-ep
London Elektricity – Funkopolis – Hospital Records
As a London Elekticity tune, you know what you're in for. Built around beautifully organic sounds and a diverse and dynamic composition that takes you on a journey, this is a tune that is interesting and unique on a different level, with almost a "Drum and Bass Noir" feel. In its uniqueness though, it still maintains versatility for mixing with a variety of tunes. I feel like this tune is ahead of its time in many ways.
Purchase Link:
https://www.hospitalrecords.com/shop/release/various-artists/nhs345-sick-music-2019
High Contrast – Tobacco Road – 3Beat Productions Limited
Much like London Elektricity, when it's a High Contrast piece, you have a pretty solid idea what you're getting into. This track is a couple years old now but has a great energy to it. A remix/ re-envisioning of the John D. Loudermilk (1960) song of the same name, it's a fusion of pieces such as the vocals of the Lou Rawls version (1963), the intro guitar riff from the Nashville Teens version (1964) and spinning it into a wonderfully energetic, blues inspired DnB track. Protip: You ever want to tug at my musical heartstrings…put heavy doses of blues elements in your DnB. THE MORE YOU KNOW!
Purchase Link:
https://itunes.apple.com/us/album/night-gallery/id1259218675?app=itunes&ign-mpt=uo%3D4
RMS – Streets on Lock – Delta9 Recordings
RMS is simply a machine. Over the past two years, RMS has churned out a plethora of great tunes. This one in particular is a bit of a departure from the more traditional jungle/ neo-jungle vibes RMS is probably better known for. With a heavy tech feel and a borderline neurofunk design, this one is a smasher. You will be hearing this in sets from me in the near future and probably for a while. I agree, RMS probably does have the "Streets on Lock."

Purchase Link:
https://delta9recordings.bandcamp.com/album/rms-streets-on-lock
Slippy – Speaker – Monstercat
"Speaker" is my first real exposure to Slippy. The Tallahassee artist primarily works in the larger EDM spheres. However this piece is a powerful, floor shaking halftime destroyer. The coup de grâce though is the switch up to full tempo in the second half. I'm chomping at the bit to unleash this one soon.
Purchase Link:
https://music.monstercat.com/album/flux-ep
Voltage Voodoo – Midnight Special (feat. Maria Lea) – Melting Pot Records
There's beauty in simplicity. With "Midnight Special (feat. Maria Lea)," Voltage Voodoo made quite the impression on me. It opens with an exquisite, airy, vocal intro complimented with an elegant saxophone riff only to turn around and punch you in the gut at the drop with a hefty rolling bassline and full on tech assault. It's a very nice fusion of techy liquid roller vibes. How about we make that a subgenre? Techy liquid rollers. Okay, yeah, a bridge too far. Still though…great tune. I'm loving it as an opener right now.

Purchase Link:
http://meltingpot-records.bandcamp.com/track/midnight-special-ft-maria-lea
Dub Phizix & Fixate – Babalugats – Exit Records
Simply put, this is the halftime business right here. The track just makes you move. I don't know I've got a ton of adjectives to really lay into this one. Just vibes. Pure, unadulterated, dancefloor decimating halftime vibes. Dub Phizix & Fixate linking up to do what they do best.

Purchase Link:
https://exitrecordsuk.bandcamp.com/album/exitvs-008
Nina Simone – Feeling Good (NEOH Bootleg) – FREE DOWNLOAD
Do I even need to say anything about this? The legendary, classic, timeless "Feeling Good" by Nina Simone combined with a deep, moody drum and bass roller. And free?!?!?!?! SIGN ME THE FRIGGIN HELL UP!

Download Link:
https://hypeddit.com/track/ou9gks
Leeroy Thornhill – Vibrations (Night Shift Remix) – Get Hype Records
I think this tune is right on the money with the title "Vibrations." The Night Shift Remix offers up a bassline as its centerpiece that just shakes your soul. The two primary vocal samples simultaneously give a hint of both jungle and techno. Honestly, it's like a well-seasoned dinner entrée. Robust flavor accentuated by hints of this and that. It also wouldn't be inaccurate to call it delicious either.
Purchase Link:
https://www.beatport.com/release/the-calling-vibrations/2459093
Agro – First There Was Dark (VIP) – Sub-Liminal Recordings
Lately, there's been a movement in Jungle/DnB that I have taken to calling "Big Bass, Neo-Jungle." While I won't go into a longwinded exercise in subgenre labeling, I think this track falls firmly within the category. Classic jungle elements combined with a jump up flair and a bassline with connoisseur's grade wobble. This is a no nonsense, cut the crap and tear up the place tune. Every time I've dropped it live, I've gotten ID requests.
Purchase Link:
https://www.beatport.com/release/the-myriad-part-3/2454345
BONUS!!!!!!!! K-Wain – El Diablo – R.O.S.Y Records
I figured I'd take a moment to toss in a non "electronic" tune as well. Those that know me know my second musical love behind Drum and Bass is hip-hop. By in large my tastes lean to throwback/ classic hip-hop of the 80's to early 2000's eras and I think that's a large part of my affinity for this tune. "El Diablo" by K-Wain (prod. by Tiggz) is a hell of a song that fuses some of the best elements of classic and current hip-hop. The hook is downright infectious. The icing on the cake, K-Wain is a local PDX artist and this tune has been seeing radio play and time in the Moda Center for Trailblazer's games. PDX Hip-Hop heads, I think K-Wain is going to be one to watch. "Lost in my mind so tonight baby I know that I'm on the fast track to acting up, bucklin' down and strappin' up, Conscience in the back when El Diablo riding passenger…" Uuuuuuuuuuggggghhhhh. Mmmmmmm. Love it
Purchase Link:
https://itunes.apple.com/us/album/el-diablo-single/1448525393
Alright, that's it. Thanks to those that gave this a read. Now get out there and #dojunglistshit. Until next time, junglists.
28 January 2019 ZealotDNB Music Drum and Bass, Hip-Hop, Jungle, Top 10 List, Tunes